Silom (Thai: สีลม)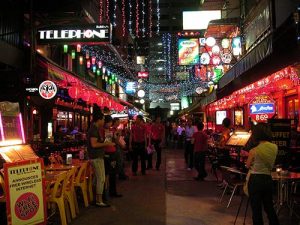 Silom is most (in)famous for two small streets, Pat Pong 1 and Pat Pong 2. These streets are notorious for their go-go bars, and in days not so long gone they attracted sailors, soldiers, and lost souls. Even though Pat Pong is still a "red light" district, the area is now a common excursion point for tourists. The streets are lined with market stalls full of souvenirs and brand copies, and needless to say, there is no shortage on bars and sports joints.
Outside of Pat Pong, Silom is a thriving international business area with numerous skyscrapers, a big expat community, and upscale dining options. On the northeastern edge of Silom, you will find Lumphini Park, a green oasis in the city.
Silom Evenings and Nights
Silom nightlige is most famous for the Patpong and Silom Soi 4 streets. These streets will give you the raw in your face Bangkok experience combined with a bucketful of tackiness and some sights for the not so sore eyes – especially if you enter some of the bars.
This is not all the area has to offer though. You will find Irish Pubs and sports bars for the expats stuck in the land of football and fish n' chips, posh and stylish nightclubs for the upper middle-classes, and most importantly, the impressive rooftop restaurants that have become mainstays on the Bangkok itinerary. For more on where to go out in the area, we find Culture Trip's 10 Best Bars in Silom to be spot on.
Recommended Hotels in the Silom Area
Coming up…
Bangkok Area Guide Thailand Guide Other Destinations Beachmeter Home
We are expanding this page. Stay tuned for more information.